10.15.2019
Teacher Job Fair – Kingsville ISD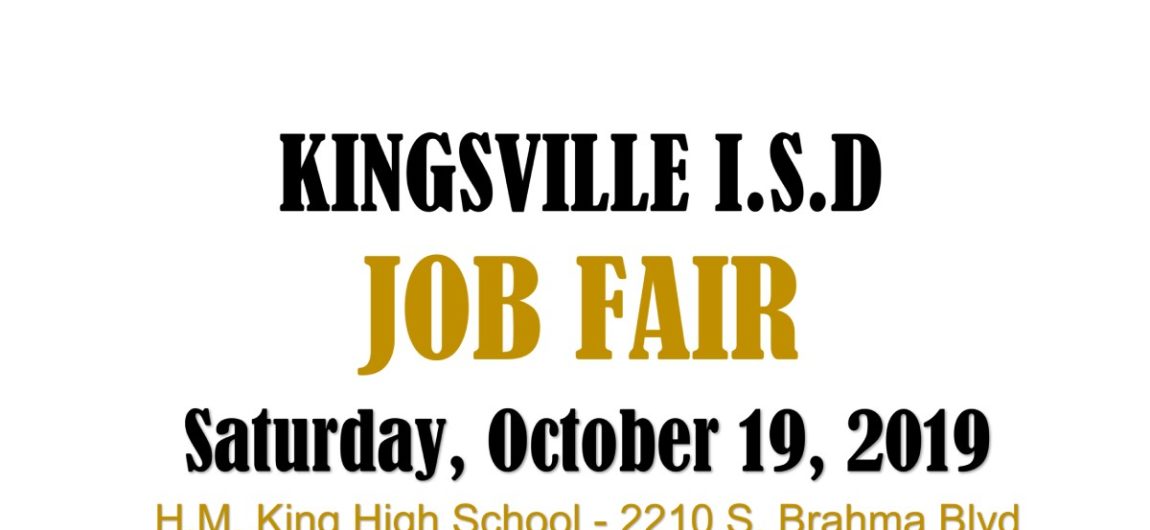 The Kingsville Independent School District is hosting a fall Teacher Job Fair on Saturday, October 19, 2019 at H.M. King High School l from 10:00 a.m. to 4:00 p.m.
If you are interested in gaining a teaching position for the 2019-2020 school year, Kingsville ISD encourages you to attend. Come and experience the opportunity to interview with our campus principals and leaders!
If attending, please ensure to register prior to the event in order to receive job fair updates and information. We hope to see you there!
POSITIONS AVAILABLE
EC-4 Generalist
EC-4 Generalist Bilingual
EC-6 Generalist
EC-6 Generalist Bilingual
K-12 Special Education (Elementary, Middle School, High School, District Alternative Education Placement Campus)

BIP
Inclusion
Adaptive Education

High School Science Teacher (Physics & Engineering)
Intermediate Campus Counselor
District Data/Office Technician
District Computer Technician
504/Dyslexia Facilitator
Middle School Library Aide
Special Education Aide
Bus Drivers (8)
Maintenance/Substitute Bus Driver (1)
Custodian (4)
Cafeteria Specialist (2)
Diesel Mechanic (1)
Substitutes
PLEASE BRING:
Driver's License & Social Security Card
Direct Deposit Verification Form
Official College Transcript (if applicable)
Applicable Teaching Certification
Service Records (if applicable)